Welcome to Rivar Paving and Resin: The Ultimate Solution for Beautiful Driveways and Patios in Reading.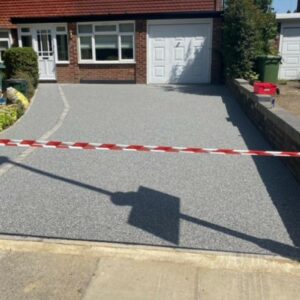 Are you looking to transform your outdoor space with a stunning driveway or patio? Look no further than Rivar Paving and Resin, a premier paving and resin specialist in Reading. With years of experience under our belts, we are dedicated to providing you with top-notch driveway and patio installations that are visually appealing and built to last.
At Rivar Paving and Resin, we understand the importance of a beautifully crafted driveway or patio in enhancing your property's overall aesthetics and value. That's why we take pride in offering bespoke solutions tailored to meet your unique requirements and desires.
We offer comprehensive services designed to cater to your every need. From new driveway installations to patio makeovers, our team of experts are on hand to deliver impeccable results every time.
Resin Bound Driveways: Our stunning resin-bound driveways perfectly blend style and durability. Combining natural aggregates with a high-quality resin binder, our driveways are attractive and permeable, ensuring excellent drainage and minimal maintenance.
Block Paving: Our block paving options are ideal for a more traditional look. With a vast selection of colours, styles and patterns, you can create a bespoke driveway or patio that complements your home and garden.
Patio Installations: Our expert patio installations transform your garden into a luxurious outdoor living space. From natural stone to porcelain, our team will work with you to design and create a functional and visually stunning patio.
Driveway and Patio Maintenance: At Rivar Paving and Resin, we install driveways and patios and provide maintenance services to keep your outdoor space looking pristine for years to come. From cleaning and sealing to repairs, we've got you covered.
Why Choose Rivar Paving and Resin?
Quality Craftsmanship: Our team of skilled professionals are dedicated to delivering impeccable results that exceed your expectations. From initial design to final installation, we ensure every detail is perfect, down to the last paving stone.
Competitive Pricing: At Rivar Paving and Resin, we believe in providing top-quality services at fair and competitive prices. We'll work with you to find a solution that fits your budget without compromising quality.
Exceptional Customer Service: We pride ourselves on our unwavering commitment to customer satisfaction. Our friendly and knowledgeable team will guide you through every step of the process, ensuring a seamless and enjoyable experience from start to finish.
Don't settle for anything less than the best. Contact Rivar Paving and Resin in Reading on 0118 373 3471 for a free, no-obligation quotation and let us transform your outdoor space into a stunning showpiece you'll be proud to call your own.
LIST OF SERVICES IN Reading, UK
GALLERY EXAMPLES